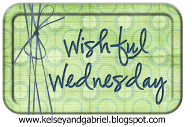 I know it is Thursday, but I didn't get a chance to blog yesterday and I still wanted to participate in Wishful Wednesday...
I wish I had the start up funds to build that company I have always dreamt about and it would be...
Plain to Pretty Designs
Actually I have already done some stuff with this. Basically, it is custom scrapbooks, picture frames, notebooks, notepads, etc. I have also done theme baskets. It really doesn't take a whole lot of money to start up, it takes time, and since I have a job that also takes time-well, you can see where this is headed. So I guess technically, I wish I had the funds to stay home and get this started...